Andreas Dorn (Uppsala) & Stéphane Polis (Liège)
The papyrus Turin Cat. 1879+, also known as the Turin Papyrus Map or the Goldmine Papyrus, is one of the most famous pieces of papyrus from ancient Egypt. As the oldest surviving map of both topographical and geological interest, it has attracted the attention of specialists from different fields since it entered the Museo Egizio in 1823 as part of the Drovetti collection. Despite this, the papyrus has never been published properly: many of its hieratic texts still await their first hieroglyphic transcription and translation, the drawings on the verso have not been described (Fig. 1), and the very purpose of this document is still far from clear.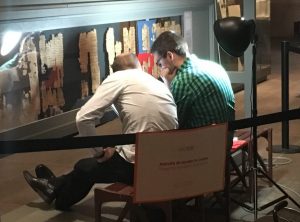 One of the goals of the 'Crossing Boundaries' Project is thus the proper publication of all the texts on this more than two meter-long papyrus. This will be accomplished alongside a discussion of the papyrus' complex history, both in ancient times (when it was used as a writing surface by scribes from the reign of Ramesses IV to the reign of Ramesses VI) and in more recent times (when scattered fragments of the papyrus were gradually joined together). Part of this work will also be devoted to the interpretation of the map on the recto (detail in Fig. 2) and to the contextualisation of this document within the framework of the scribal practices of Deir el-Medina.
See the recent paper about the Goldmine Papyrus in Archaeology (May/June 2019)
Baud, Michel 1990. La représentation de l'espace en Égypte ancienne: cartographie d'un itinéraire d'expédition. Bulletin de l'Institut Français d'Archéologie Orientale 90, 51–63.

Goyon, Georges 1949. Le papyrus de Turin dit "des Mines d'Or" et le Wadi Hammamat. Annales du Service des Antiquités de l'Égypte 49, 337–392.

Harrell, James A. and V. Max Brown 1992. The Oldest Surviving Topographical Map from Ancient Egypt (Turin Papyri 1879, 1899, 1969). Journal of the American Research Center in Egypt 29, 81–105.

Hovestreydt, Willem 1997. A Letter to the King Relating to the Foundation of a Statue (P. Turin 1879 vso.). Lingua Aegyptia 5, 107–121.

Janssen, Jac. J. 1994. An Exceptional Event at Deir El-Medina (P Turin 1879, verso II). Journal of the American Research Center in Egypt 31, 91–97.